FusionWMS is the only embedded third party WMS Solution for Acumatica
FusionWMS is the only Warehouse Management Solution completely embedded in Acumatica with no external tables or applications other than the downloadable software on approved Android handheld devices.
Integrates directly and automatically with Acumatica in real time. No duplicate databases or sync processes are required.
Quick, easy installation​
Does not require any local software. Set it up in Acumatica, install the app on the handheld device, and you're ready to go.
Empower your warehouse workers with the right tool.​​
We are warehouse experts and know day-to-day warehouse operations. Our handheld application is intuitive and straightforward and allows warehouse workers to manage operations more efficiently without any chance of making costly mistakes.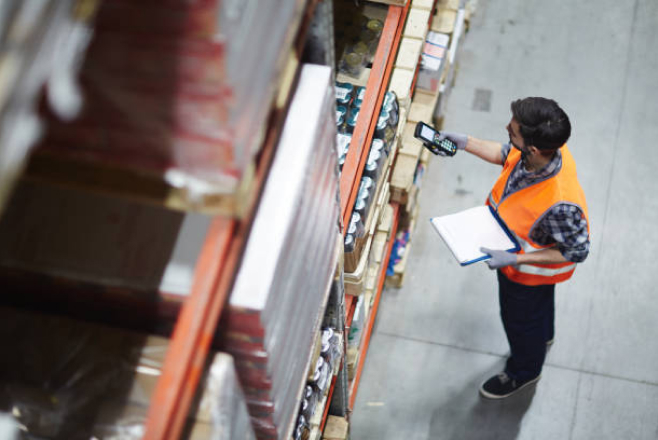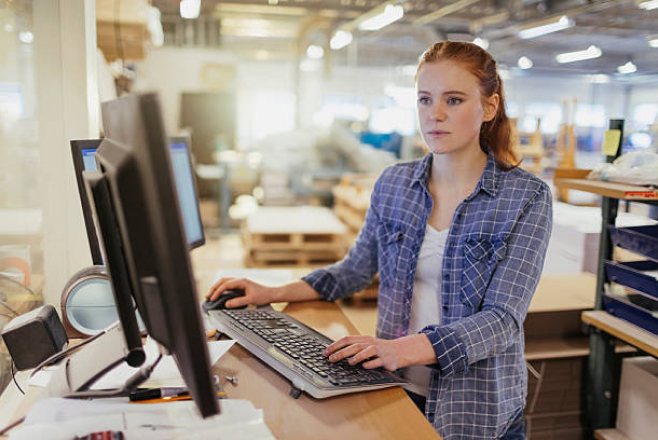 Manage your warehouse more efficiently directly within Acumatica​
FusionWMS is embedded into Acumatica, enabling real-time synchronization of your warehouse data with all your other sales channels within your ERP.
Please click on each feature to know more
Receiving
Speed processing: Handheld operators can efficiently search and select purchase orders (POs) by date, vendor, or PO number, enhancing processing speed.

Simultaneous processing: Process multiple POs from the same vendor simultaneously, improving efficiency and reducing processing time.

Multi-handheld collaboration: Multiple handheld devices can work on the same receipt, allowing for concurrent processing and increased productivity.

Real-time tracking: Track item receipts in real-time, enabling faster throughput and improved visibility throughout the receiving process.

Accurate data capture: Capture serial numbers, lot numbers, and expiration dates directly from the handheld device, ensuring precise and accurate information for improved inventory accuracy.
Put Away
Received goods: Option to palletize or put away items individually after receiving them.

Pallet labels: Print pallet labels directly from the handheld device using on-device centric printers.

Batch scanning: Streamline the process by scanning serial or lot numbers in batches, reducing friction, and improving efficiency.
Material Handling
Full pallet management: Create, add/remove contents, delete pallets, and print pallet tags directly from the handheld device.

Independent transfers: Effortlessly move items or entire pallets in a single step using the handheld device.

Drill down Lot and Serial numbers: Easily access detailed information on Lot and Serial numbers from the item summary.

Directed physical count: Execute physical inventory counts efficiently and accurately using the handheld device.

Restock/down-stock: Manage pick bins by restocking or down-stocking items using the handheld device.

Intra and inter warehouse transfers: Perform seamless transfers between different locations within a warehouse or across multiple warehouses using the handheld device.

Serial/lot scan: Scan serial or lot numbers to quickly identify items and their respective locations.
Pick Pack Ship
Multiple paperless methods are available for these operations, which can be utilized independently or in combination based on specific needs and preferences.
Pick
Wave / Batch pick: Organizing orders or shipments into batches or waves for efficient picking. Multiple orders are picked simultaneously, optimizing the process by reducing individual picking and increasing efficiency.

Zone pick: Dividing a warehouse into zones, assigning pickers to specific zones for efficient item retrieval. Multiple pickers can work on the same shipment simultaneously, reducing picking time and improving efficiency.

UOM picking: Recognizing UOMs streamlines the picking process and improves overall efficiency.

Cross dock allocation: Transferring incoming goods directly from the receiving dock to outbound shipping without storage. This ensures newly available items are efficiently allocated to orders or shipments, minimizing storage time, and expediting order fulfillment.
Pack
Independent packing: Individually packing items into boxes, pallets, or other suitable materials based on requirements.

Pallet Management: Simultaneously building pallets or boxes during item picking, integrating the packing process with picking for streamlined efficiency.
Ship
Staging shipments: Organizing and preparing shipments in advance, placed in a designated area for efficient and timely pick-up by the shipping carrier.
FusionWMS – MultiPack
Identify Prepacked Inner packs. By adding a check box on the Cross Reference FusionWMS recognizes the inner pack and will only allow it to be added to a Master Pack.
Build Inner Packs during Picking, or Pack. Inner packs may be assembled from the handheld either during the Pick or during the Pack.
Assemble Inner Packs on Master Packs. With inner packs assembled they may be scanned to create a master pack which may either be a box or a pallet.
Inner pack and Master pack detail is maintained in Acumatica for future reference.
Customer Centric labels. Inner Pack and Master Pack labels may be defined by Customer.
FusionWMS – Optimization. (Q3 2023)
Shipment Optimization
Color coded analysis of orders to identify which orders may ship complete or not thus allowing improved shipping efficiency. The UI will also reflect anticipated inbound POs as wells as highlighting errant items.
Cross Dock – Available today, Cross dock compares inbound receipts (production or Purchase orders) with Open Shipments, Back Ordered Shipments or New Shipments as defined by the users. Open Shipments can automatically be updated to include the newly available items.
Pick Optimization
Minimize the things picked by applying item UOMs to SO quantities when the shipment is created.
Separating a pick between locations of specific UOMs.
Providing a staging location to rejoin separated picks.
The invoice will reflect original order quantities. Only the shipment will be manipulated.
FusionWMS vs Acumatica WMS Comparison
| Receiving | AcumaticaWMS | FusionWMS |
| --- | --- | --- |
| PO Lookup on HH (By Vendor / Date / PO #) | | |
| Receive PO / TO to Stock Location on HH | | |
| Receive PO / TO to Dock Location on HH | | |
| Receive PO / TO to Pallet | | 2023 |
| Individual Item Scan Or Enter Qty on HH | | |
| Receive Multiple POs at One Time | | |
| Receive with Multiple HH | | |
| Scan or Enter Lot / Serial / Expiration Date on HH | | |
| Add Picture to PO Receipt on HH | | |
| Uses Tolerances as defined in Acumatica | | |
| Receive in Multiple Units of Measure on HH | | |
| Local Caching on HH for Disconnect | | |
| Batch Scan of Serial Numbers at Receipt on HH | | |
| Assisted Put Away – Display Stock Location on HH | | |
| Routed Put Away | | 2023 |
| Zone Put Away – Separate putaway by Zone | | 2023 |
| Directed Put Away | | 2023 |
| Batch Scanning of Serial Numbers on HH | | |
| Cross Dock (Update Shipments / Back Orders / Sales Orders) | | |
| Material Handling | AcumaticaWMS | FusionWMS |
| --- | --- | --- |
| Item Location Lookup on HH | | |
| Bin Contents look-up on HH | | |
| Add UPC From HH | | 2024 |
| Lot/Serial Drill Down on Item on HH | | |
| UOM specific fixed locations | | |
| Auto Restock Pick Bin | | |
| Create / Move / Delete Container from HH | | |
| Add / Edit / Remove Container Contents from HH | | |
| Print Container Labels from HH | | |
| Inventory Issue on HH | | |
| Inventory Receipt on HH | | |
| Inter-Warehouse One step Transfer on HH | | |
| Intra-Warehouse One Step Transfer on HH | | |
| One Step Transfer of All Bin Contents on HH | | |
| One Step Transfer of All Bin Contents to Container on HH | | |
| Batch Scanning of Serial Numbers | | |
| Physical Count | AcumaticaWMS | FusionWMS |
| Real time Entry of Count Quantities on HH | | |
| Directed to Next location on HH | | |
| Reduce Pick Count by Picked items | | 2023 |
| Batch Scanning of Serial Numbers during Count on HH | | 2023 |
| Manufacturing | AcumaticaWMS | FusionWMS |
| Material Supply | | |
| Move | | 2023 |
| Pick | AcumaticaWMS | FusionWMS |
| --- | --- | --- |
| Separate Pick / Pack / Ship functions | | |
| Independent pick sequence | | |
| Pick Assignment | | 2023 |
| Get Next Pick Assignment from HH | | |
| Select Pick from HH | | 2023 |
| SO Pick | | |
| Wave Pick | | |
| Pick to Cart | | 2023 |
| Print Container Labels from HHBatch Pick | | |
| Zone Pick – Separate Pick by Zone | | |
| Paper Pick – Manual Pick / Scan to Ship for TO / SO | | |
| Paper Pick – Scan to Pick / Scan to Ship for TO / SO | | |
| Paper Pick – Scan to Pick / Manual Ship TO / SO | | |
| Pick Optimization using UOM | | |
| Pick to Inner Pack | | |
| Identify Inner Pack | | |
| Assemble Inner Packs to Master Pack | | |
| Suspend Pick for Item Check | | |
| Override Serial/Lot during Pick from HH | | |
| Batch Scanning of Serial Numbers at Picking | | |
| Scan serial / lot in lieu of Item | | |
| Pick to Pallet on HH | | |
| Cross Dock / Fill Back Orders – User Allocate | | |
| Cross Dock / Fill Back Orders – Auto Allocate | | |
| Cross Dock – Sales Orders – User Allocate | | |
| Cross Dock – Sales Orders – Auto Allocate | | |
| Cross Dock / Update Shipment | | |
| Cross Dock / Update Shipment from HH – Auto Allocate | | |
| Stage Pick pending Update Shipment | | |
| Save Pick from HH | | |
| Pack | AcumaticaWMS | FusionWMS |
| --- | --- | --- |
| Set default Box / Container | | |
| Recognize or build Pack Inner Packs | | |
| Add inner Packs to Master Pack aka Pallet | | |
| Print Inner Pack / Master Pack labels by Customer | | |
| Local Caching for Disconnect | | |
| Add Picture from HH | | |
| Batch Scanning of Serial Numbers on HH | | |
| Limit Boxes / Containers available to HH | | |
| Select Box / Container from HH | | |
| Scan box / Container Label to load container and contents from HH | | |
| Review / Edit Container Box / Contents from HH | | |
| Save Box / Container before creating Packages from HH | | |
| Enter box / Container Weight from HH | | |
| Print box / Container Label from HH | | |
| Create Acumatica Packages from HH | | |
| Commit Shipment from HH | | |
| Confirm Shipment from HH | | |
| Desk Top – Pack Shipment | | |
| Desk Top – Select Box | | |
| Desk Top – Pack to Box | | |
| Desk Top – MultiPack – inner pack / master pack | | |
| Desk Top – Supports Integrated Scales | | |
| Desk Top – Carrier selection | | |
| Desk Top – Print Labels | | |
| Desk Top – Separate Pack / Ship Functions | | |
| Create Shipments | AcumaticaWMS | FusionWMS |
| --- | --- | --- |
| Optimize Shipments | | |
| Load Management | | 2023 |
| Supported Devices | AcumaticaWMS | FusionWMS |
| --- | --- | --- |
| Supports Android Devices | | |
| Supports IOS Devices | | |
| Configurable UI | | |