Sync your Adobe store with Acumatica
The Adobe Connector links your Acumatica ERP solution with your website, facilitating seamless product, customer, and fulfillment data communication. All your commerce information is entered into one platform and syncs to the other, eliminating duplicate entries and mundane data entry to save you time and money managing multiple systems to do the same thing.
Get the best of both worlds
Boost Adobe Commerce operations by integrating Acumatica ERP to set the groundwork for ecommerce growth and improved efficiency. When you use the Adobe Commerce-Acumatica Connector, the list of benefits is nearly endless.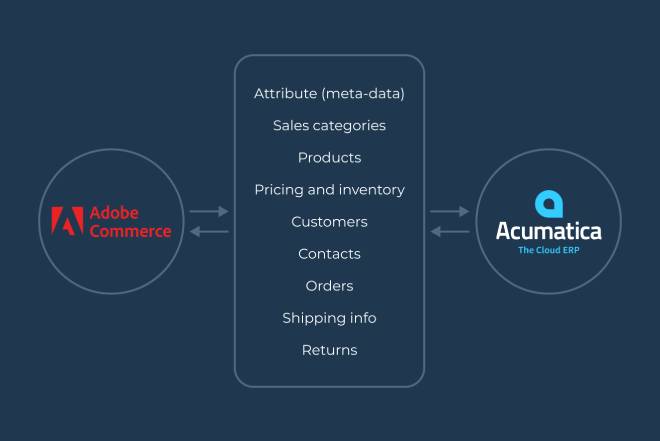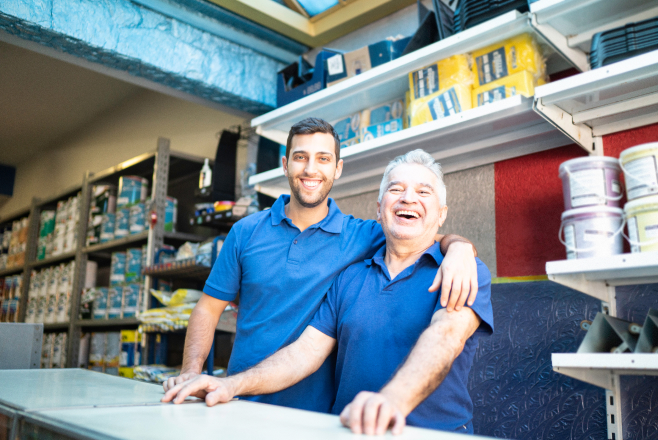 Future-proof your business
Integrating Adobe Commerce and Acumatica ERP using the Connector allows you to automate back-office operations, streamline business processes, and keep customers happy, allowing you to focus on the important thing – growing your business.
The Adobe Commerce–Acumatica Connector provides an end-to-end solution to keep your business running at optimum performance and tools to help convert leads into customers and streamline business processes.
Features made to boost your business
The Acumatica-Adobe Commerce Connector helps sync sales and product information from your Adobe Commerce website to Acumatica Cloud ERP, creating a single source for all your inventory and sales data. Real-time data sync offers valuable insights to help.
The Acumatica-Adobe Commerce Connector helps sync sales and product information from your Adobe Commerce website to Acumatica Cloud ERP.
Sync customer information between your Adobe website and Acumatica ERP, improving the customer experience from first visit to checkout.
Orders automatically transfer from Adobe Commerce to Acumatica ERP and match to the customer, all managed within the Connector.
Use Acumatica's native shipping application, ShipStation or integrate third-party shipping software.
The Adobe Commerce-Acumatica Connector authorizes payments between your Adobe Commerce website and Acumatica ERP.
Link discounts per individual product, product group, or bundle to the right customer. Create your sales price worksheet and eliminate duplicate or incorrect data entry.
Adobe Commerce-Acumatica ERP Connector manages multiple tax categories to ensure purchases are made with the correct tax information by the customer location
and business type.
Using the Connector Sync Log, you can track individual entity messages, troubleshoot Adobe Commerce issues, track users, and create bulk actions in Adobe Commerce to track bulk data transfers.
The Adobe Commerce-Acumatica ERP provides custom field mapping, real-time data sync, and push notifications for all system updates, ensuring accurate data and update approval during low-traffic times.
Fully integrate your commerce site & ERP in one system
The Adobe Commerce–Acumatica ERP integration connects your digital storefront(s) with Acumatica ERP operations, providing a single source to manage product, customer, and order data, reducing errors and delays by eliminating duplicate data entry operations. The Connector helps meet customer expectations and delivers products faster by improving your order and fulfillment processes. Reporting helps you drive business decisions and helps increase sales conversions and business growth.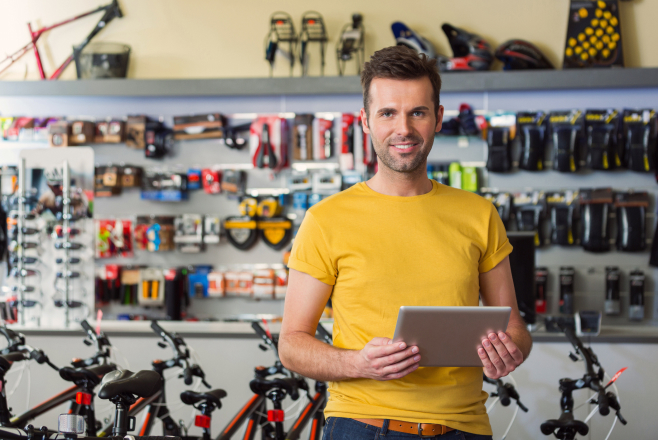 Helpful answers to your questions
Still need more information before you set up your intro call? Here are the most common
questions asked and the answers you need to know to make an informed decision.