Sync ChannelAdvisor with Acumatica
Kensium's ChannelAdvisor Connector for Acumatica helps simplify and streamline your business operations with the ultimate omnichannel system optimized for your ecommerce business. Sync your inventory, catalog, purchasing, and fulfillment data between Acumatica and ChannelAdvisor.
An opportunity to maximize marketplace visibility
All data flows in real-time between ChannelAdvisor and Acumatica, ensuring data is up to date in both the systems.
Once the data is in ChannelAdvisor, it connects to marketplaces, shopping carts, shipping partners, vendors, 3PLs, Payment Gateways, Repricers, and others, giving you endless possibilities for reaching more customers and increasing your sales.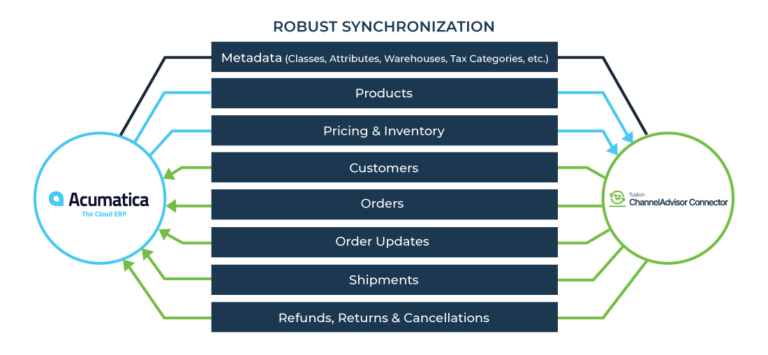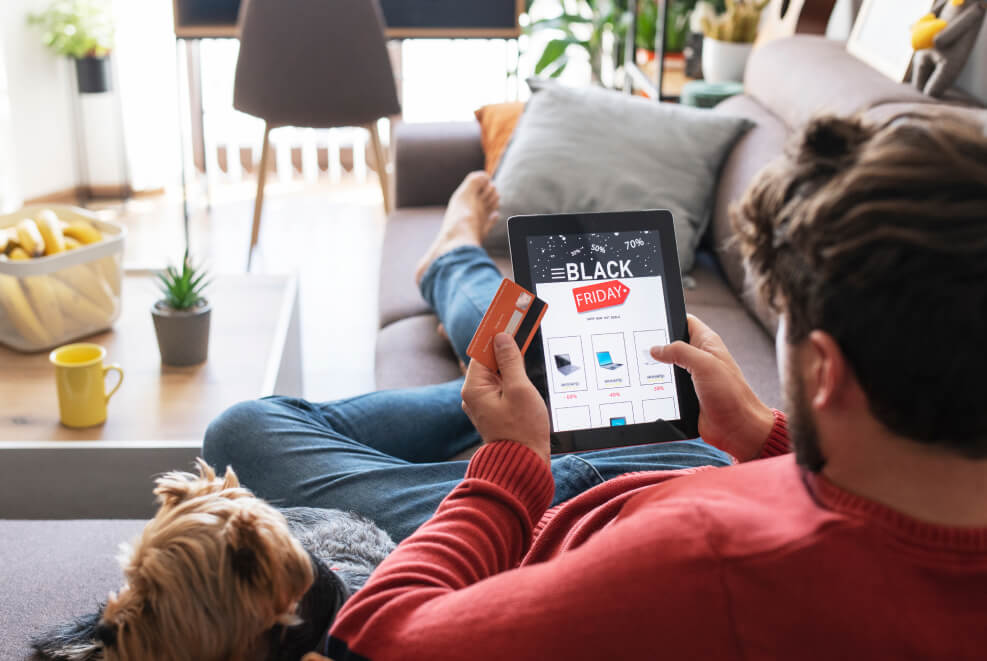 Better data for better selling
Manage and automate marketing programs from one platform.
Power multiple marketplaces like Amazon, eBay, Jet, Walmart, and more via a single platform.
Manage and update your product catalog from one place.
Grow your audience and your sales with expansion into international marketplaces.
Analyze your performance at a general level and at a product level.
Eliminate worry with ChannelAdvisor's secure and scalable system.
Sync your marketplace presence with your other online channels, such as comparison shopping engines, pay-per-click advertising, and your website.
Enhance your commerce business via ChannelAdvisor's comprehensive functionality:
List and manage all your entire product inventory across multiple sales channels through a centralized platform, eliminating the tedious task of entering product data separately for each channel. With the utilization of Shadow SKUs, you can list the same product in a unique manner on each channel.

Additionally, you can create kits to combine multiple products into a single SKU, and conveniently list products with similar attributes together using variation SKUs. All of these listings can be seamlessly synchronized with Acumatica's Template Items for optimal efficiency.

Ensure accurate inventory management and prevent overselling by seamlessly syncing inventory and pricing information from Acumatica to ChannelAdvisor. This integration allows you to maintain precise inventory levels across all channels supported by ChannelAdvisor. Additionally, you can effectively manage multiple warehouses and reserve inventory specifically for each channel. If you utilize FBA (Fulfillment by Amazon) and WFS (Warehouse Fulfillment Service), you can easily track inventory sent to the marketplace and align inventory levels.
Easily manage orders from all your sales channels by importing them into ChannelAdvisor and synchronizing them with Acumatica for seamless order processing and fulfillment. You can customize synchronization parameters globally or for specific marketplaces using a range of configuration options available. This allows you to effectively manage your entire order workflow with ease.

If you use sales channels that allow order edits, such as BigCommerce and Shopify, you can seamlessly integrate ChannelAdvisor with Acumatica and bring order updates into Acumatica. This integration enables efficient order management, ensuring a successful and streamlined workflow.
Efficiently manage your order fulfillment process and keep your sales channels updated with the latest shipping confirmations and tracking information by pushing fulfillment data from Acumatica, including full or partial shipments and dropships, to ChannelAdvisor. This integration ensures that your sales channels have accurate and up-to-date information, allowing for timely updates and a streamlined workflow.

Bring returns, refunds, and order cancellations from all supported channels into Acumatica via ChannelAdvisor to ensure inventory is always up to date.

Vendors and Purchase Orders
Map vendors in Acumatica with those in ChannelAdvisor, and sync the creation and management of purchase orders from Acumatica to ChannelAdvisor, streamlining the procurement process and ensuring inventory replenishment.

Gain insight into the profitability of each order across different channels by importing all fees charged by each channel into Acumatica. By assigning each fee to a separate GL (General Ledger) entry, you can effectively track and reconcile all costs and commissions associated with each order. This enables you to evaluate the true profitability of each order, providing valuable data for financial analysis and decision-making.
Sync all Acumatica data and updates in real-time to ChannelAdvisor.
Define the required attributes/fields to be synchronized and only exchange the defined data to increase speed, improve efficiency, and costs.
Monitor specific fields in Acumatica to determine when sync should be initiated.
Re-sync any historical data changes in Acumatica on demand via the batch mode.
Establish connections between multiple companies within ChannelAdvisor to efficiently handle orders and shipments across various regions.
Sync stock, non-stock, kits, and template items from Acumatica to ChannelAdvisor.
Map product attributes in Acumatica to custom columns in ChannelAdvisor.
Sync inventory levels in real-time from Acumatica to ChannelAdvisor, preventing overselling or stockouts.
Sync orders from ChannelAdvisor, ensuring accurate and up-to-date order information in Acumatica.
Use ChannelAdvisor Shadow SKUs seamlessly within Acumatica.
Create a unified view of all financial data by integrating all sales, charges and fees, and refunds into Acumatica.
Update inventory levels in ChannelAdvisor based on purchase orders created and maintained within Acumatica.
Conduct marketing and advertising campaigns across multiple channels and analyze the results using analytical tools available in ChannelAdvisor.
Connect Acumatica To Over 100 Marketplaces
Find out about ChannelAdvisor Connector pricing
Our certified team has the experience and resources to build on the
platform and integrate your back-end systems.