4
min read
Because the competition is tough, customers can demand more engagement from brands and retailers. If customers do not get what they want from one retailer, they do go elsewhere to get it. Retailers need to identify what customer engagement opportunities make the most sense for them to capture and keep customer attention.
Here are 3 suggestions:
Sell experiences, not just things
Execute brand standards, programs and operations
As Forbes contributor Blake Morgan explains, "creating experiential concept stores, teaching customers, providing personalized service doing good in the community and much more" are all great ways to attract customer attention. Consider your unique business as well as your unique customer demographics, then identify what experiences may be best for them.
Provide interactive, in-store opportunities
Retailers looking to capture customer attention need to identify ways beyond inventory that will boost customer engagement. From interactive merchandising displays (like Sephora's digital mirrors), to digital signage to creating selfie stations in stores to offering hands-on learning experiences and more, merchants need to remember that customers want to be engaged and entertained – thus, your store strategies should align with this.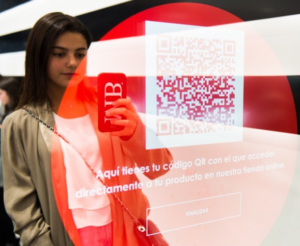 Image credit: 
cosmeticsbusiness.com
Offer ease in the shopping experience
As much as customers appreciate being entertained while they shop, they also appreciate ease. Very simply, this means providing shopping experiences that cater to the preferences of today's savvy customers. This can include cashier-less check-out procedures, offering new payment options such as installment payment, and BOPIS.
The key takeaway is this… make it easy. Avoid friction or roadblocks at any point during your customer purchasing experiences.
Retail remains customer-centric and human-driven. Always consider who your audience is and how you can best support them with enhanced engagement opportunities.
Whether you generate a million dollars annually or one hundred million plus, there is always opportunity to grow. Take legendary retailer Nordstrom, for example, who recently unveiled a new flagship store in New York City that is designed unlike any of their past store layouts.
As Nordstrom's CEO Erik Nordstrom shared at the National Retail Federation's BIG Show this past January, "stores must be more experiential" and not just a place to buy items.
The recent opening of their flagship store in Manhattan echoes this sentiment, with a bar strategically located within the shoe department and a whole level dedicated to beauty treatments – not just beauty products.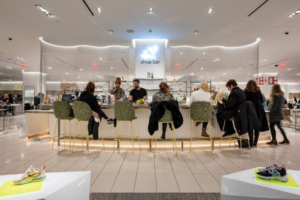 Image credit: nytimes.com
Customer Care… Literally
Customers used to only care about how you treated them, with customer service being a core component of their purchase decisions. Now customers care about customer service and retailer actions that directly impact what they personally care about (sustainability, fair wages, social justice, etc.).
In a recent report, Accenture explains, "consumers in the United States are no longer making decisions based solely on product selection or price; they're assessing what a brand says, what it does and what it stands for. They support companies whose brand purpose aligns with their beliefs. And they reject those that don't, with one in five walking away forever."
Retailers are at risk of losing customers due to what their brands do or don't do. Now more than ever it's vital for retailers to communicate what they believe in and how they engage in social responsibility so that they can capture and keep consumer attention and sales.
Accenture clarifies, "while business leaders, investors and employees all bring essential perspectives and capabilities to a brand's identity, customers provide insights through their words and actions that enable purpose-driven companies to hone their competitive agility."
With a reported 42% of customers willing to walk away from brands who don't align with their values, and 1 in 5 customers admitting to never returning once disappointed in a brand, there is no excuse for retailer's not to recognize the importance of what customers care about.
More so than ever customers are showing their trust, are opening up concerning what they care about, and demonstrating genuine preferences by the dollars they spend. Keeping this in mind, the future looks bright for retailers who are willing to take what customers are telling them into account and improve their customer engagement.